Mended Hearts Chapter 200
Serving Northern Virginia Since 1988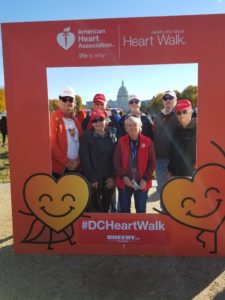 Mended Hearts Chapter 200 servers the needs of heart patients and their families who have had heart surgery at INOVA Heart and Vascular Institute (Fairfax), Virginia Hospital Center (Arlington), and the DC Veterans Administration Hospital.  We work with the hospital staff to identify patients that may benefit from the support we offer and visit them and their families while they are in the hospital and also by phone and internet.
Our goal is to help them cope with their procedure and subsequent recovery and give them a sense that people like us have lived through the trauma of heart surgery to live healthy and productive lives.  For patients who have undergone open heart surgery we bring them pillows handmade by our volunteers.  These heart shaped pillows, when held tightly to the chest make recovery easier and more comfortable after open heart surgery. We offer services to patients and families following discharge from the hospital such as follow-up phone calls and monthly Support Group Meetings where patients and caregivers may share their stories and learn from others who have experienced similar procedures.
We encourage heart patients, their caregivers and families or  people looking for volunteer opportunities and medical professionals to join our chapter and/or volunteer their time and expertise.
Mended Hearts Chapter 200 was founded in 1988 and has grown from it's founding to approximately 300 members. Plus our chapter enjoys the support of non-member volunteers from the community that help our chapter achieve its mission of providing hope.  Our non-member volunteers come from church groups, scouting troops, students doing community service and businesses. We are most appreciative of the financial, material and support they provide.  You can learn more about our sponsors here.
Mended Hearts of Northern Virginia Chapter 200
P.O. Box 897
Annandale, Virginia 22003